EVENTS AND WRITING WORKSHOPS
Cascadia Climate Action & Science on Tap present "Stories & Science for an Unruly Planet: Confronting Climate Change at Home"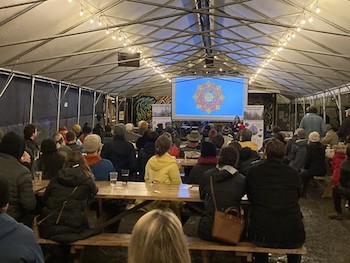 Wed, June 7th, 2023, 7:00 PM-8:00 PM
In-Person
Join this special evening conversation about science storytelling and grassroots climate action with award-winning author and journalist Madeline Ostrander and University of Washington Associate Teaching Professor P. Sean McDonald. Ostrander will talk with McDonald about her acclaimed book, At Home on an Unruly Planet: Finding Refuge on a Changed Earth; how and why she uses the tools of narrative journalism to write about science; and what we can learn from community-based stories about the solutions to climate change. At the end, we'll have time for a lively round of questions and beverages. Third Place Books will make books available for purchase at the event.
Fire and Home: A Night of Storytelling About Climate and Communities
Fri, June 16th, 2023, 7:00 PM-9:00 PM
In-Person
Join us for an evening of storytelling, art, and conversation about wildfire, climate change, hope, and recovery. Madeline Ostrander's debut nonfiction book, At Home on an Unruly Planet, chronicles the Methow Valley's journeys through wildfires and recovery—alongside four other communities that have faced impacts of climate change at home, from Alaska to Florida, and found grassroots solutions. The book also features cover art from Methow-based artist Sarah Gilman.
ASLE + AESS Conference: Climate Stories and Social Change
Tuesday, July 11th, 2023, 8:30 AM to 10:00 AM
In-Person and Virtual
PAST EVENTS
Lummi Island Heritage Trust: The Power of Home in an Era of Climate Crisis
Friday, April 28, 2023, 6:30 PM to 7:30 PM
In-Person and Virtual
Join us to hear Madeline Ostrander's talk, "The Power of Home in an Era of Climate Crisis." Drawn from her book, At Home on an Unruly Planet, Ostrander will discuss what she has learned about hope, grit, and resilience from people who live on the front lines of climate change.
This event is in-person at the Lummi Island Grange and on Zoom.
Society of Environmental Journalists' Conference Panel: "Weaving the Personal Into the Global and Political: Environmental Stories Close to the Bone"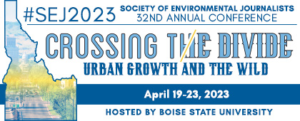 DETAILS HERE
April 22, 2023, 9:00 am EST

Westport River Watershed Alliance: Winter Speaker Series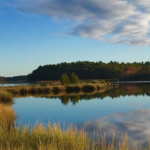 DETAILS HERE
Virtual
April 13, 2023, 4:00 pm EST / 1:00 pm PST

To sign up, email outreach@wrwa.com.
West Seattle: Earth Month Talk
Seattle, Washington
April 12, 2023, 1:00pm to 2:30 pm

Join West Seattle environmental journalist and author Madeline Ostrander to talk about her new book, At Home on an Unruly Planet—named one of Kirkus Reviews' best nonfiction books of 2022. In an era of wildfire, heat wave, flood and upheaval, how do we find hope and solutions? Ostrander answers this question with a series of vivid and uplifting accounts of American communities confronting the impacts of climate change—including wildfire-ravaged parts of Washington state. In this talk, she'll offer a series of insights about what it takes to create resilience in a time of crisis and protect the places and communities we care about.
Paper Boat Books will be selling copies of Unruly Planet, which the author can sign after the talk.
Bioneers Conference Panel: "Listening to Frontline Communities"
Berkeley, California
April 8, 2023, 4:45 pm to 6:00 pm
Tickets available here. Use code "BioSpeaker" for 20% off.
Join author Madeline Ostrander; environmental scientist Rachel Morello-Frosch; Richmond, CA City Council Member Doria Robinson; and youth organizer and Sierra Club Emerging Voices award-winner Alfredo Angulo for a discussion about lessons from frontline and environmental justice communities—and how their voices are vital to understanding how to face the climate crisis and develop solutions. We'll explore how such communities are advocating for stronger climate policies, building collective strength to fight against industrial pollution and launching groundbreaking grassroots initiatives in this time of climate emergency.
Richmond and the Power of Home: A Talk about Resilience from the Grassroots
Richmond Public Library – Madeline F. Whittlesey (MFW) Community Room, Richmond, California
April 6, 2023, 6:30 pm
Author and climate journalist Madeline Ostrander's new nonfiction book, At Home on an Unruly Planet, focuses on what it means to face climate change at home with deep reporting from four communities across the country, including efforts in Richmond, California, to transform the city in the wake of the disastrous 2012 refinery fire. Richmond's experience is featured alongside Okanogan County, Washington, and its journeys through wildfire and recovery; a Yup'ik village in southwest Alaska that is relocating because of severe coastal erosion; and a historic city in Florida facing flooding from sea level rise. The book explores Richmond's legacy of environmental discrimination and the story of Doria Robinson, Urban Tilth executive director and now city councillor—and how the radical act of growing healthy food in a refinery town is changing what's possible there. It reflects on the power of reimagining a city—especially one whose story is intertwined with an oil industry giant—in a time of climate emergency.
On April 6 at the Richmond Public Library, Doria Robinson and Madeline Ostrander will talk about what Richmond has to teach and offer other communities, how Richmonders have been reimagining their city's future, and what we can all learn from places that are facing climate impacts.
Bainbridge Island Environmental Conference: "Our Island Home on an Unruly Planet"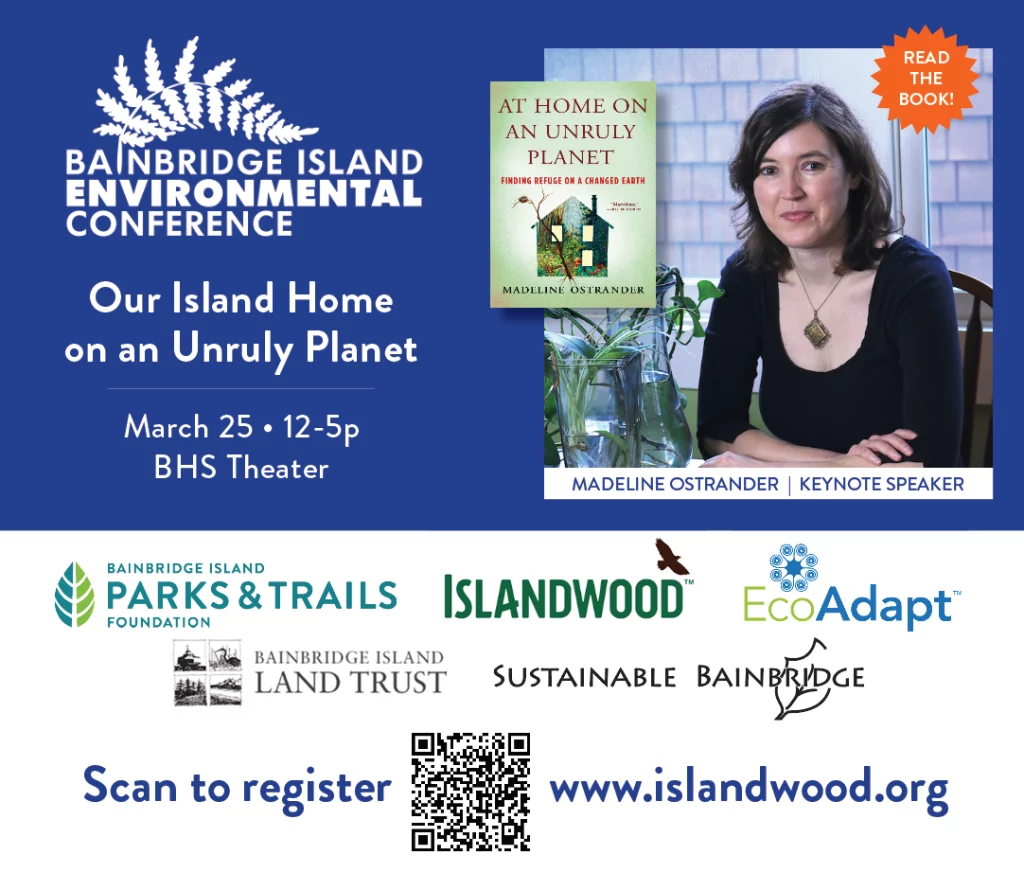 REGISTER HERE
Bainbridge Island, Washington
Saturday, March 25, 2023, 12:00 PM – 5:00 PM PDT
Climate change is affecting not only our planet and our region, but our home of Bainbridge Island. We need to understand what that means for us as a community and individuals, and what we can do to make a positive difference for now and the future. To do this we will explore some of the drivers of impact for our community.The 2023 Bainbridge Island Environmental Conference presents "Our Island Home on an Unruly Planet" on Saturday, March 25, from 12-5pm. This year's conference will feature keynote speaker and popular science journalist, Madeline Ostrander, author of At Home on an Unruly Planet, one of Kirkus Review's 100 Best Nonfiction Books of 2022. Between deeply reported stories of ordinary Americans finding resilience in the face of dramatic environmental change – melting permafrost in Alaska, rising seas in Florida, catastrophic wildfires in Washington state, petrochemical disasters in California – Ostrander offers lyrical essays on our historical, social and psychological constructs of "home" as a place to be cherished, defended and continually renewed. Ostrander's book is available before the conference through Eagle Harbor Book Co. There are also several copies at the local library. There will be a book signing by the author at the end of the conference as well.
Boston Public Library, Cary Memorial Library, and MIT: Author Talk with Madeline Ostrander and Greg Epstein

Tuesday, January 24, 2023, 6:00 p.m. EST, virtual
Science journalist and author Madeline Ostrander will discuss her recently published book At Home on an Unruly Planet: Finding Refuge on a Changed Earth as part of the library's theme of climate justice activism. Acting as interlocutor for this conversation is Greg M. Epstein, humanist chaplain at Harvard and MIT and New York Times-bestselling author.
Class at Seattle's Hugo House: Weaving Science into Story

Saturday, November 12, 2022, 10:00 a.m. – 1:00 p.m., in-person, Seattle, WA
Many of the most important stories of our time are grounded in or heavily influenced by science. But the story of science is rarely well-told. At its best, like any good narrative, science is a search for insight. But its pursuit can also magnify the worst human tendencies—hubris, injustice, and exploitation. In this class, we'll discuss how to weave science into personal stories and explore what is at once beautiful, vital, and occasionally monstrous about the search for answers.
Class at Seattle's Hugo House: Building Characters from Real Life
Saturday, November 19, 2022, 10:00 a.m. – 1:00 p.m., in-person, Seattle, WA
Characters breathe life into a story, turning an abstract idea into a vivid representation of human experience. In nonfiction, writers build characters from the raw and messy material of real life. In this class, we'll talk about techniques for rendering yourself and others as characters through scenes, dialog, and telling details. We'll explore strategies from nonfiction, memoir, and journalism for researching and digging deeply into the thoughts, habits, manners, quirks, and substance of your characters.
A Night of Richmond Storytelling: Open mic, book talk, music, mingling and food
Sunday, October 2, 2022, 4:00 p.m. – 6:30 p.m., in-person, Richmond, CA
A night of Richmond storytelling about people power, climate justice, and reimagining the world, with author Madeline Ostrander, Urban Tilth executive director Doria Robinson, and Rich City Rides executive director Najari Smith. Emceed by local poet, author, and educator Ptah Tracey Mitchell. With an open mic, a book talk, food, and music. Co-presented with The Othering and Belonging Institute at the University of California, Berkeley.
Madeline Ostrander with KQED's Ezra Romero and the Richmond Listening Project's Alfredo Angulo, Mrs. Dalloway's Bookstore
Wednesday, October 5, 2022, 7:00 p.m. – 8:30 p.m., in-person, Berkeley, CA
Madeline Ostrander talks about reimagining home in frontline communities—including Richmond, California—with KQED climate reporter Ezra David Romero and the Richmond Listening Project's Alfredo Angulo at Mrs. Dalloway's Bookstore in Berkeley. Co-presented with The Othering and Belonging Institute at the University of California, Berkeley.
Finding Refuge and Resilience in Climate Crisis
Tuesday, October 25, 2022, 4:30 p.m. – 6:30 p.m., in person, MIT, Cambridge, MA
Event and workshop open exclusively to MIT affiliates
In a time of climate crisis, the very definition of what it means to live an ethical life is in flux. Explore the search for purpose, ethics, and resilience in an unruly world, at this book talk / discussion / mini writers' workshop featuring journalist and author Madeline Ostrander, in conversation with MIT humanist chaplain and convener for ethical life, Greg M. Epstein.
Sponsors: the MIT Office of Religious, Spiritual, and Ethical Life (ORSEL), the MIT Knight Science Journalism Fellowship, and MIT Radius.
Book Talk with Madeline Ostrander and Christine Woodside
Tuesday, October 26, 2022, in-person and live-streamed, University of Rhode Island
Metcalf Institute welcomes alumni, Madeline Ostrander and Christine Woodside, for a hybrid in-person and virtual discussion of Ostrander's brand-new book,At Home on an Unruly Planet.
In At Home, Ostrander, who frequently reports on climate change, energy, and environmental justice, offers four vivid accounts of American communities finding hope, solutions, and resilience amid the floods, storms, and wildfires stoked by climate change. Her book "reflects on what it means to make a home in this era of upheaval and transition." Woodside is a writer, historian, editor, a Visiting Assistant Professor in Residence at the University of Connecticut, and former chair of the Metcalf Institute Advisory Board whose work focuses on the environment and American history.
Join us for conversation on October 26 both in-person and virtually. The event will be live-streamed on Youtube, and we also will gather in person at the Anchor Room in the Robert J. Higgins Welcome Center at URI's Kingston Campus. An in-person reception, where refreshments will be served, will be held from 5:00-5:30 p.m., followed by the moderated discussion from 5:30-6:30 p.m.